Despite growing up in Norfolk, I was one of the many who had no idea about Norwich's underground tunnel networks. So many times I have walked around the city, completely oblivious to the hidden history beneath my feet.
I first heard about the Norwich tunnels when I stumbled upon an article written by a local newspaper. They had gained access to one of the secret streets of subterranean Norwich and had dubbed it 'Diagon Alley' because of it is completely hidden to the world outside.
Whilst I am not sure the Diagon Alley comparison is quite factually correct (I discovered on my Harry Potter walking tour that that title belongs to Victoria Street in Edinburgh!), the article sparked my interest and I certainly wanted to explore Norwich underground!
This post contains affiliate links. If you use them, I will receive a small commission at no extra cost to you.
---
Read more: (Opens in new tab)
---
The Discovery of the Norwich Tunnels
It may surprise readers to know that the Norwich tunnels were never officially discovered. Although not common knowledge amongst everyone in Norfolk, the undercrofts of Norwich have actually been used by businesses for years. Ponds shoe shop which was formerly located on Castle Meadow (now where KindaKafe is), actually used to use the space below the shop for shoe storage.
Norwich has the largest number of medieval undercrofts in the country and they are not that difficult to find (once you are looking for them)! The oldest of these undercrofts is in Wensum Lodge, Kings Street. The interesting thing about this undercroft is that it is now open to the public in the form of Jurnet's Bar. That's right, you can even sink a beer there!
Despite the sheer number of undercrofts dotted under the city, few of these are open regularly to the public. Heritage Open Days sometimes run tours to these otherwise off limits areas but the vast majority are unexplored and unvisited by the masses.
The Origins of the Norwich Underground Tour
It is now possible to explore one of the undercrofts via guided tour. This tour, also known as the 'hidden street' tour is run by the Missing Kind Charity, located in KindaKafe on Castle Meadow.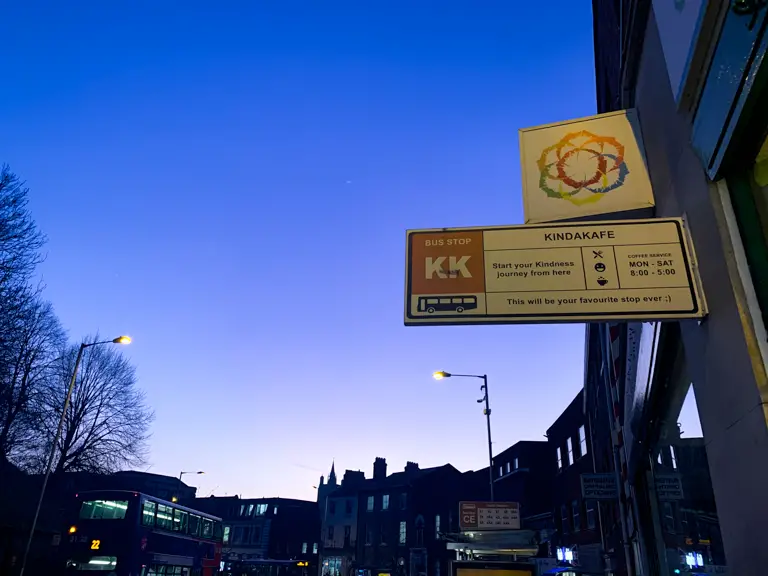 About KindaKafe
This social enterprise aims to tackle exclusion and loneliness within the local community. They have a cafe which operates a 'pay it forward' scheme where you can donate a meal or a drink to somebody in need.
The venue is owned by the Missing Kind Charity and they facilitate meet ups for local groups. Some of these communities are so popular that there are waiting lists so be sure to get in early if you are interested in a group or event!
As previously mentioned, before becoming the home of this social enterprise, the building which houses the Missing Kind and KindaKafe was home to the shoe shop, Ponds. When they took on the building, the undercroft below the street also came with it.
KindaKafe opened its undercroft to the public mid 2018. However, the underground Norwich tour generated so much interest that they now run tours regularly to keep up with the demand.
What Should I Expect from an Underground Norwich Tour?
After meeting your group in KindaKafe, local historian Sarah Walker will take you down to visit the shop's hidden street. Part of the undercroft is believed to have been a family home and workshop. This was once at street level, before the ditches surrounding Norwich Castle were filled in.
The tour is full of interesting facts about Norwich as well as medieval life. Sarah explains all about the executions that used to take place nearby and how this particular undercroft was used during the war.
Not just a historian, Sarah is also a professional storyteller so expect to be wowed by her tales of missing musicians in the tunnels! If you are interested in Sarah's storytelling, check out her Facebook Page.
As well as featuring lots of interesting history about the area, Sarah also tackles the rumours. There have long been whispers that some of the underground tunnels in Norwich are secret pathways that lead to the castle but you'll need to come on the tour to find out if this is true!
Even as a local, I learned so much about Norwich on the underground tour and would recommend it to anyone looking to do something a bit quirky or discover more about the city's history.
Hidden History Norwich Expands!
The success of the 'Hidden Street' tour offered by the Kindacafe has sparked an interest in local history around the area. Since unveiling their first tour, KindaKafe have also launched another Hidden History Norwich experience, which takes visitors around Tombland.
Underground Norwich FAQ
Will I get Claustrophobic?
There is plenty of room to move around the undercroft so most people will be able to attend the tour without any issues.
Is it Safe?
The tour is perfectly safe. However, visitors are advised to bring a flashlight (or fully charged mobile with torch) as it can be dark down in the undercroft. Watch out for tripping hazards as some of the floors are quite uneven.
How Long does the Tour Last?
The tour will take roughly one hour to complete. There is also a small exhibition upstairs in KindaKafe about the Ponds shoeshop which is also worth looking at.
Is this Suitable for Children?
Although there is the odd ghost story, this tour should be fine for children.
How Do I Book?
If you are interested in embarking on a subterranean tour in Norwich, head to the KindaKafe website.
How Much are Tickets?
Tickets cost £11.50 per person for the Norwich underground tour and £9.00 per person for the Tombland tour. Be aware that at the time of writing, the Hidden history Castle Meadow tour only runs on Sundays, Mondays and Tuesdays.
Where Can I Find Out More About Heritage Open Days?
You can find out more about Heritage Open Days by visiting the website or look for specific Norwich events on the Forum website.
Recommended Accommodation in Norwich
Central Hotel ($)
The Central Hotel is located along Riverside Road which is close to some great restaurants and other entertainment venues, including Odeon cinema and Gravity trampoline park. Central Hotel is just a five-minute walk from the train station.
The hotel is budget-friendly so it is ideal for backpackers (sadly, Norwich is lacking on the hostel scene) and those seeing the city on part of an extended trip. All of the private rooms come with toiletries and tea and coffee making facilities. Twin rooms start at £59 ($76USD) per night.
Dunston Hall ($$)
For a splendidly English stay, head to Dunston Hall, situated around 4 miles outside of Norwich. The accommodation is set amongst wooded parkland which means you are close to the city without feeling like it.
There is a golf course, driving range, spa and indoor pool. The double and twin rooms are priced surprisingly reasonable considering the facilities which come inclusive of a stay. The price starts at just £91 ($117USD) per night.
The Assembly House ($$$)
Perhaps the best place to stay in Norwich is the fabulous Assembly House. Located smack bang in the middle of the city and just around the corner from Chapelfield shopping centre, this hotel just oozes a sophisticated ambience which really allows you to relax.
You can opt for a double room starting at £190 ($244USD) per night or upgrade to a suite. The cost of this is £230 a night. If you do stay here (or even if you don't) do not miss the fantastic afternoon tea and keep an eye on their promotions for the themed options which crop up every few months!