After making the decision to begin teaching English in China, I was bombarded with questions. In the beginning, these were from family and friends, but as time went on more people reached out to me. For anyone else considering ESL (English as a Second Language) teaching in the East, here are the things I'm most often asked about living and working in China.
What language skills do I need?
If you are not a native speaker of English it is becoming increasingly difficult to land a TEFL job in China. On the plus side, you don't need to know any Chinese as you will always conduct your lessons in English.
Do I need a teaching experience or degree?
A TEFL (Teach English as a Foreign Language qualification) is nearly always essential if you want to teach English abroad. You can easily sign up for a course online but don't forget to shop around for the best prices. Previous experience is often preferable but there are plenty of schools who will hire you without this. The most important thing is a willingness to learn. After a recent tightening of the law, you also need a valid university degree to teach in China.
Teaching English in China sounds hard, what made you want to do it?
This question is a tricky one for me. I decided to apply for an ESL job on a bit of a whim, to be honest, I'd always wanted to travel but hadn't had the finances to be able to do so. Teaching in China would challenge me and allow me to experience the country on a budget. When I heard that my accommodation and flights would be paid for, it became less the question of why and more the question of why not.
What type of school did you work in?
I worked in Wuhan for a private language institution. Our students ranged from three years old right up to fourteen and their ability varied hugely. This meant I was always refining my teaching methods in order to reach every student.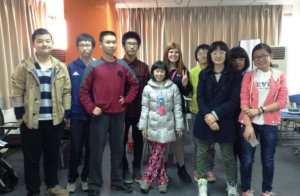 When did you work?
I worked five days a week, including weekends and evenings. In peak time (eight weeks in summer and two weeks in winter) this increased to six days a week. Teaching is a demanding job which takes up a lot of your time. I found it was best to arrive several hours before your classes to allow you time to write lesson plans and keep on top of progress reports.
What were the students like?
Do not fall into the trap of believing that all students will be well behaved owing to the strict education focus in China – this is a myth! Some kids just want to have fun and mess around, but it is important that they understand that you are their teacher and you set the boundaries.
How did you deal with the language barrier?
It is very daunting moving to a country where the average person speaks next to no English but if you are willing to help yourself it is easy to live with. In my first few days, I managed to get by pointing at things I wanted and smiling. People don't mind if you can't speak Chinese well but they will appreciate you giving it a go. When it came to school, things were much easier. If I was teaching a beginner class there would be a Chinese co-teacher to translate instructions. In classes with higher ability I would teach on my own so if an instruction became lost in translation I had to get creative. I found that providing examples and drawing diagrams were helpful.
How easy is it to adapt to Chinese life?


The most daunting thing about China for me was the sheer size of the place; coming from a small rural village it is a million miles from home, metaphorically and literally! In my school there was a brilliant support system for foreign teachers; I had help setting up my bank account and getting a Chinese phone number.  Getting my head around all of the etiquette rules was a bit daunting to start with but people are always willing to help.
What is the expat community like in China?
There is a massive expat community in China so even if you are the only native teacher in your institution it is still easy to meet people. I was lucky in that I was one of nine foreign teachers at my school but that isn't to say I didn't meet anyone else. ESL teachers tend to frequent the same hangouts so get on Google and find out where yours are!
What was the best thing about teaching English in China?
For me, the best thing about teaching English in China was the exploration of the culture. I found the differences in customs and lifestyle endlessly fascinating. During my time living in China, I was in a constant state of learning which I loved.
What did teaching in China make you learn?
Teaching in China gave me an amazing opportunity to build my skills and try something different. This was the first time I had flown anywhere alone or lived in a different country. Whilst it was challenging at first, teaching made me a more confident person. I made some great friends throughout my journey and China will always have a special place in my heart.
I'm terrified, should I go for it?
Definitely! Moving to China was the scariest thing I have ever done but also one of the most rewarding. If you fancy it, check out the Teach English in China website for more information and use the code SHEREE18 to get £25 off the programme fee! If you've been offered a job teaching abroad but don't know where to begin, this guide will help you prepare. You'll always regret it if you don't take the plunge!
*This website contains affiliate links. If you choose to purchase through these links, I will earn a small commission at no extra cost to you. This will help me to finance my adventures! *
Have you ever taught English abroad?
Love it? Pin it! 🙂